Denise Masters
Scope Projects deliver high-end spec suites at 420 George Street, Sydney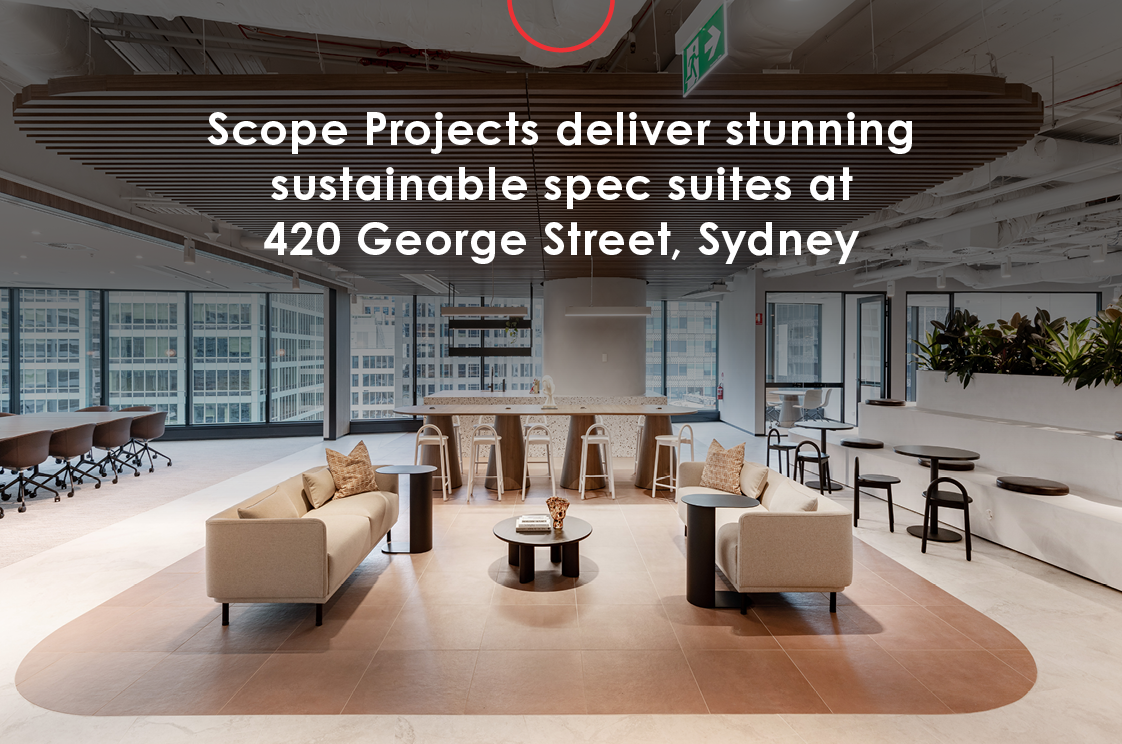 When Investa invited the Scope Projects team to be involved in a sustainable project within 420 George Street we jumped at the chance, immediately partnering up with Aimee Munro at Gray Puksand as our creative and talented design partner. 420 is a Premium Grade asset and home to Investa's own Head Office. Whilst the project itself had an exciting brief, it has been even more rewarding to be trusted with this prestige address. 
Level 10, a large rectangular footprint with side core, had been home to a Serviced Office user. The highly built workspace was in a nearly new condition, due to the covid closures it had been well preserved and therefore had many services and furniture re-use options to consider. Due to the depth of space access to natural light is limited to the East and Western facades, both being the shorter ends of the building. 
The brief from Investa and the Leasing team was to open the space right up, create a well-planned and considered arrival zone, a brightening of the internal work zones for user experience throughout whilst maximising efficiencies for a high occupancy rate. As this was to become the largest Spec Suite within the Investa portfolio, it needed to be a premium and unforgettable outcome. 
The result is breathtakingly impressive. Aimee Munro has created a space that can be simply described as balanced. In describing the space Aimee said; 
"Level 10 is defined by its dynamic geometry and uniqueness of space. Design elements are placed with a countering contrast to create a feeling of balance, exciting angles balanced with soft curves, refined detailing balanced with edgy and exposed architecture, lightness balanced with punches of dark. The space aims to feel sophisticated with a sense of playfulness".   
The aesthetic is a soft, light and neutral palette with base finishes, the space is strengthened through warm timbers and earthy tones.
Constructing this incredibly detailed and bespoke design across a large floorplate involved a 3 week pre-construction period of planning, precise sub – contractor alignment due to the level of detailing and an extended early procurement period for long lead materials and FFE. 
Technically this project had its constructability challenges which were overcome through investigation and collaboration with the collective project team consisting of structural engineers, services consultant. The ceiling is highly detailed and a key feature of the space mimicking the flooring pattern to create angular and defined travel paths. The bulkheads were framed and set over a lengthy 4 week period, they frame the exposed ceilings that give this space such an incredible and breathtaking finish.   
Other engineered features include; 
Stadium seating with a weight of one tonne

 

Core holing to every work point (140+)
Structural steel to the beams surrounding the boardroom to bear the weight of the operable wall

 

The unique feature atrium floating meeting rooms

 
In stark contrast L29 is described as Home. The warmth of timber drives the palette with an array of textural, moody materials and feature lighting create a space that feels more akin to a residential property than a commercial office.
Aimee states "The concept for Level 29 is formed around a sense of home. A central 'living' collaboration space connects to the kitchen, surrounded by supporting zones; the dining room, the study. This approach to planning is supported by a palette of finishes that exude warmth and tactility to create a space that feels carefully curated and inviting".
Both suites have hit the market with a huge response. Asset Manager Ben Rousek shared,   
"We are thrilled with the quality of the finished product and know the space will lease very quickly. Both tenancies stand out from the competition, level 10 is the largest whole floor spec. There is nothing like it. The styling is excellent too and pulls everything together.

A credit to Scope Projects and Gray Puksand for delivering such an amazing product. We are thrilled with the quality of the finished product and know the space will lease very quickly".
Client: Investa Property Group
Address: Levels 29 & 10 420 George Street Sydney
NLA: L10 – 1,430sqm
NLA: L29 – 279sqm
Type: Workplace, Spec Suite with Base Building integrated works
Delivery Service: ECI, Design & Construction
Value: $3.3m
Programme: 2 months pre-construction, 4 months construction
Project Management: TSA Management – Robert Teijeiro, Andrew Qui, John Yilmaz
Interior Designer: Gray Puksand – Aimee Munro
Leasing: Knight Frank – Alexa Mahony and Mike Urwin