Join Us.
Join our fast growing team & thriving culture.
Scope Projects is growing and we're looking for experienced and enthusiastic construction professionals to join our team. Be involved in a range of high-end projects across the fitout and refurbishment commercial market, working with clients that we've built strong relationships with over the past 19 years. We work with industry leading designers and project partners to provide tailored solutions to our clients and pride ourselves on delivering quality outcomes that exceed expectations, every time.
Whether you're an experienced professional or just starting out, we want to help you grow your construction career. Be part of our thriving culture where you'll be supported with continuous learning, a passionate team and an environment that promotes growth and wellbeing. Take it from our team – the average Scope employee has been with us for more than six years.
Our Values
Our vision is to help our clients create spaces that promote productivity, inspiration and a lifestyle. For this, we understand we need to work at our best. Our culture is guided by our values:
Partnerships built on trust: everything we do is underpinned by trust – in our clients, partners and each other
Focus on the details: We're committed to quality, including shaping our own quality workspace
There's no 'I' in team: It's all about a common goal; we perform our best when we work together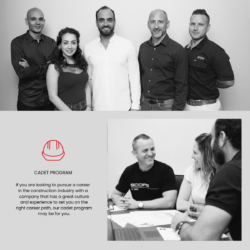 Start your journey with Scope Projects today!
We're always looking for quality people to join our team. If you'd like to hear more about our inspiring culture and way of working, get in touch: christina@scopeprojects.com.au